Support / Sound EQ palette
Sound EQ palette - Music player with Auio enhancer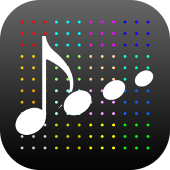 "Sound EQ palette" is a new sense Music Player app that gives you the feeling of being at a music performance. Shape the sound to match a particular style, your feelings and your acoustic environment and more.
Equipped with a high quality Audio Enhancer with a parametric equalizer that allows the adjustment of various sounds. Without any complicated settings such as a conventional equalizer, you can select an adjusted sound effect with just a tap on the 2D-pad "EQ palette".
Enjoy more aggressive sounds of your favorite to suit music genres from 144 patterns of sound equalizing palette, as you choose your favorite one from the painting color palette.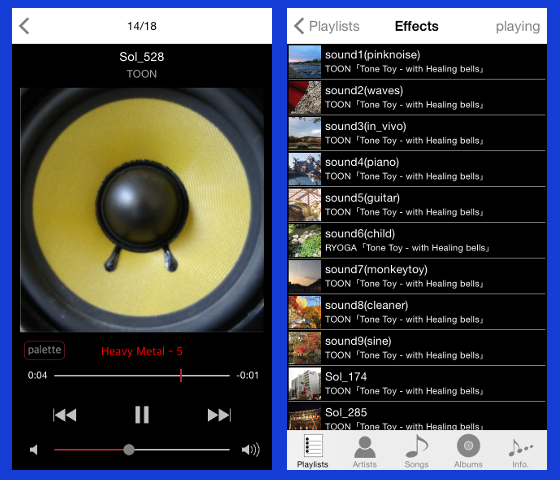 Products Information
Version : 2.1

Release date : February 11, 2016. UTC

Size : 801 kB

Category : Music, Life style

Language : English

Recommendation : Requires iOS 9.2 or later.
Features
Optimized for iPhone, Very compact code size.

Audio enhancer engine with a parametric equalizer in floating point processing.

Equipped with the sound equalizing palette which can be chosen from 144 types in the 16 genre:

- 16 genre: Heavy Metal, Rock, Vocal, Jazz, Guitar, Piano, Bass,Clean, Sparkle, Massive, Attack, Warm, Tight, Profound, Soft, Analog.

Sophisticated UI, easy touch interface for shaping your sound.

Play music directly from your iTunes/iPod Music library.

Music selection is very similar to the standard music app.

AirPlay support
Music Selection
"Sound EQ palette" consists of each view, "Music List" of Playlists / Artists / Songs / Albums, "Music Player" and "Product information". Referring to music data iPod music library. You can choose a song in much the same way as the standard music player.
If you tap the bottom menu icon, you can directly select the music list view. You will return to the original view if you tap the arrow in the upper left. It should be noted that Playlists will appear at the time of application startup.
Playlists view
Music Playback
Player view has Song Title display, Album Artwork display, 2D-pad "EQ palette", EQ-OFF button, "EQ Palette" display button, Play/Stop button, Skip button, Time slider and Volume slider.
Basic operation of music playback can be operated intuitively at the bottom area. If you tap the arrow at the top left, it returns to the original view. It can also go back Player view If you tap "Playing" at the top right .
Selecting a song from the music list, Music Player starts the playback and will be played in the original source sound. In this case, the EQ Palette function is disabled. .
View at the starts of music playing.
EQ palette
The 2D-pad "EQ Palette" has been overlaid displayed in the album artwork. By tapping the "EQ Palette", you can carry out the sound tuning with a single touch. You can choose a sound equalizer from 144 types of 16 genres.
The selected sound palette is highlighted and the equalizer name is displayed. The "EQ palette" allows you to change during music playback.
If you tap the EQ-OFF button (OFF), it will be played directly without equalizer. Also, when you tap a "EQ Palette" display button (Palette), and turn off the display of "EQ Palette", you can view only the album artwork.
Selection image of 2D-pad "EQ Palette"
Sound tuning in "EQ Palette" is as follows:
"EQ Palette" sound tuning content: 16 genres x 9, 144 type

dt>

No.1 Heavy Metal


--- Heavy Metal-1 :
Loudness


--- Heavy Metal-2 :
Powerful Mid-high


--- Heavy Metal-3 :
Powerful Hi-Hat


--- Heavy Metal-4 :
Thick Guitar


--- Heavy Metal-5 :
Definite Kick


--- Heavy Metal-6 :
Well-modulated Kick


--- Heavy Metal-7 :
Full Guitar


--- Heavy Metal-8 :
Definite Tom-tom


--- Heavy Metal-9 :
Mighty Bass



No.2 Rock


--- Rock-1 :
Flowery Kick


--- Rock-2 :
Deep Snare


--- Rock-3 :
Flamboyant Hi-Hat


--- Rock-4 :
Sharp Tom-tom


--- Rock-5 :
Mighty Guitr


--- Rock-6 :
Violent Guitar


--- Rock-7 :
Powerful Guitar


--- Rock-8 :
Harsh Guitar


--- Rock-9 :
Covering Guitar



No.3 Clean


--- Clean-1 :
Clear Strings


--- Clean-2 :
Reverberate Strings


--- Clean-3 :
Well-modulated Ensemble


--- Clean-4 :
Clear Tom-tom


--- Clean-5 :
Rich Violine


--- Clean-6 :
Well-modulated Violin


--- Clean-7 :
Vivid sound


--- Clean-8 :
Glossy sound


--- Clean-9 :
Flowery sound



No.4 Sparkle


--- Sparkle-1 :
Vivid sound


--- Sparkle-2 :
Blare Cymbals


--- Sparkle-3 :
Obedient Hi-Hat


--- Sparkle-4 :
Light sound


--- Sparkle-5 :
Bright Snare


--- Sparkle-6 :
Obedient Snare


--- Sparkle-7 :
Vivid Guitar


--- Sparkle-8 :
Sharp Brass


--- Sparkle-9 :
Blare Brass



No.5 Massive


--- Massive-1 :
Reverberate


--- Massive-2 :
Mighty


--- Massive-3 :
Rich Snare


--- Massive-4 :
Rich Acoustic guitar


--- Massive-5 :
Rich Electric guitar


--- Massive-6 :
Deep


--- Massive-7 :
Thick Snare


--- Massive-8 :
Powerful Kick


--- Massive-9 :
Full of life



No.6 Guitar


--- Guitar-1 :
Sharp


--- Guitar-2 :
Full of life


--- Guitar-3 :
Reverberate


--- Guitar-4 :
Glossy


--- Guitar-5 :
Well-modulated


--- Guitar-6 :
Clear


--- Guitar-7 :
Definite


--- Guitar-8 :
Obedient


--- Guitar-9 :
Flamboyant



No.7 Piano


--- Piano-1 :
Mighty


--- Piano-2 :
Flowery


--- Piano-3 :
Blare


--- Piano-4 :
Extended


--- Piano-5 :
Definete


--- Piano-6 :
Hard


--- Piano-7 :
Deep


--- Piano-8 :
Covering


--- Piano-9 :
Thick



No.8 Attack


--- Attack-1 :
Well-modulated Guitar


--- Attack-2 :
Powerful Hi-Hat


--- Attack-3 :
Sharp Cymbals


--- Attack-4 :
Violent Piano


--- Attack-5 :
Mighty Tom-tom


--- Attack-6 :
Full of life Percussion


--- Attack-7 :
Definite Organ


--- Attack-8 :
Flamboyant Kick


--- Attack-9 :
Blare Kick



No.9 Warm


--- Warm-1 :
Deep Brass


--- Warm-2 :
Leisurely Piano


--- Warm-3 :
Warm Guitar


--- Warm-4 :
Mellow Snare


--- Warm-5 :
Mild Snare


--- Warm-6 :
Damp Percussion


--- Warm-7 :
Calm Saxophone


--- Warm-8 :
Full Saxophone


--- Warm-9 :
Warm Saxophone



No.10 Bass


--- Bass-1 :
Mighty


--- Bass-2 :
Stable


--- Bass-3 :
Massive


--- Bass-4 :
Delicate


--- Bass-5 :
Full


--- Bass-6 :
Well-modulated


--- Bass-7 :
Definite


--- Bass-8 :
Powerful


--- Bass-9 :
Covering



No.11 Vocal


--- Vocal-1 :
Clear female


--- Vocal-2 :
Thick female


--- Vocal-3 :
Soft female


--- Vocal-4 :
Definite male


--- Vocal-5 :
Clear male


--- Vocal-6 :
Mighty male


--- Vocal-7 :
Quiet vocal


--- Vocal-8 :
Flamboyant vocal


--- Vocal-9 :
Reverberate vocal



No.12 Tight


--- Tight-1 :
Covering Snare


--- Tight-2 :
Fine-grained Snare


--- Tight-3 :
Definite Hi-Hat


--- Tight-4 :
Definite Kick


--- Tight-5 :
Well-modulated Kick


--- Tight-6 :
Hard sound


--- Tight-7 :
Hard Beater


--- Tight-8 :
Sharp Beater


--- Tight-9 :
Reverberate rhythm



No.13 Soft


--- Soft-1 :
Vintage microphone


--- Soft-2 :
Sweet Cymbals


--- Soft-3 :
Roundish Brass


--- Soft-4 :
Narration


--- Soft-5 :
Deep vocal


--- Soft-6 :
Natural Reverb


--- Soft-7 :
Radio voice type 1


--- Soft-8 :
Radio voice type 2


--- Soft-9 :
Whisper



No.14 Jazz


--- Jazz-1 :
Reverberate Snare


--- Jazz-2 :
Deep Hi-Hat


--- Jazz-3 :
Well-modulated Hi-Hat


--- Jazz-4 :
Leisurely Kick


--- Jazz-5 :
Elegant Piano


--- Jazz-6 :
Light Piano


--- Jazz-7 :
Calm Bass


--- Jazz-8 :
Profound Bass


--- Jazz-9 :
Thick Guitar



No.15 Analog


--- Analog-1 :
Country-style Guitar


--- Analog-2 :
Classical guitar style


--- Analog-3 :
Warm Guiter


--- Analog-4 :
Upright piano style


--- Analog-5 :
Country-style Violin


--- Analog-6 :
Tango style


--- Analog-7 :
Muddy Cymbals


--- Analog-8 :
Vintage sound


--- Analog-9 :
Damp Snare



No.16 Profound


--- Profound-1 :
Full Snare


--- Profound-2 :
Reverberate Snare


--- Profound-3 :
Reverberate Percussion


--- Profound-4 :
Deep Kick


--- Profound-5 :
Thick Kick


--- Profound-6 :
Powerful Kick


--- Profound-7 :
Rich Strings


--- Profound-8 :
Rich Brass


--- Profound-9 :
Rich Guitar




Info

By tapping the info button, it is displayed the product information. When you tap the "Support Site", Safari starts and you can see our support page. If you tap the "Other Apps Info", you will see our iOS App's information on the App Store.




Release Note

Sound EQ palette version 2.1 was released on February 11, 2016.

Sound EQ palette version 2.0 was released on March 31, 2015.

Sound EQ palette version 1.0.1 was released on March 22, 2015.

Sound EQ palette version 1.0 was released on February 24, 2015.

Note

"Sound EQ palette" can not play DRM protected music. Currently, all music in iTunes has become a DRM-free.

Remote operation at the control center is not supported.

Wireless connection with Bluetooth equipment is not supported.

Return to Top