Support / Listening Tuner
Listening Tuner - sound capture amplifier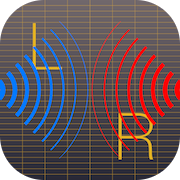 "Listening Tuner" is a sound amplifier app, to assist you better hearing with equalizing many different frequencies.
It can be easily adjusted sounds to obtain your optimal listening experience by using your iPhone mic and headphones. By using this app to watch TV or conversations in a noisy environment, you will learn how assisted hearing could help. You can also make the simulated experience of hearing loss.
All sounds are a combination of frequencies, and our voices produce sounds at different frequencies. As you get older it is natural to have difficulties with hearing in the higher frequency spectrum. The other hearing difficulties are often quite specific, so you may need to experiment to find the appropriate compensation to you.
"Listening Tuner" helps you to hear better by using our proprietary digital processing technology, Graphic Equalizer, Preset Equalizer, Noise Suppressor and more sounds control functions. In addition, On Replay function, you can playback the sound you missed listen on just before 15 seconds.
In the latest version 2.0, the user interface has been updated and each function has been improved.
In addition, please note that this app does not support wireless headphones.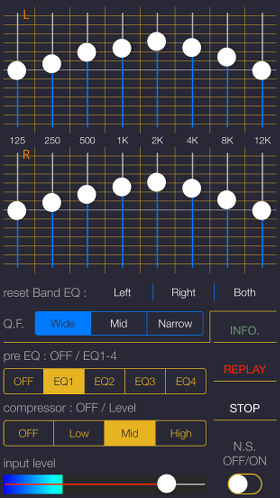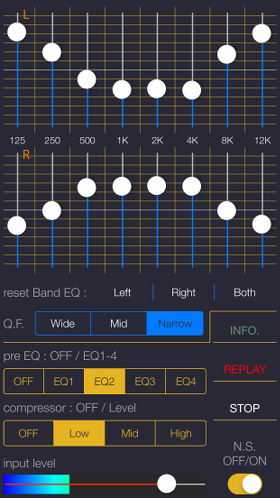 Please to click the following link to download "Listening Tuner" from App StoreTM. It will be open the download page on App StoreTM.

Communications charges when connecting to the App Store will be borne by the customer.

iPhone, AirPlay is a trademark of Apple Inc., registered in the U.S. and other countries. App Store is a service mark of Apple Inc.
Products Information
Version : 2.1

Release date : May 21, 2018 UTC

Size : 0.9 MB

Category : Utilities, Life style

Recommendation : Requires iOS 11.3 or later.
Features
Optimized for iPhone, Compact code size.

Good listening support functions

8 bands parametric graphic equalizer : 125Hz, 250Hz, 500Hz, 1kHz, 2kHz, 4kHz, 8kHz, 12kHz.

Preset Equalizer : 4types - EQ1: Voice zoom, EQ2: Vocal focus, EQ3: Higher frequency hearing loss supports, EQ4: Lower frequency hearing loss supports.

Noise Suppressor.

Sound Compressor.

Replay function : Realtime sound recording and playback on just before 15 seconds.

Sound Level meter : Mic input level.

Input level adjustments.
Top view
At the first boot of "Listening Tuner", the information view is displayed. In addition, by tapping the "Close", the top view is displayed.
Top view includes graphic equalizer (GEQ), GEQ reset (reset Band EQ), GEQ quality factor (QF), preset equalizer (preEQ), compressor, input level contorol, sound level meter, noise suppressor (NS), replay (REPLAY), Start/Stop and product information (INFO).
The access permission to the microphone will be confirmed from the iOS system at the first start-up. Please enable access to the microphone.
Top View of "Listening Tuner" app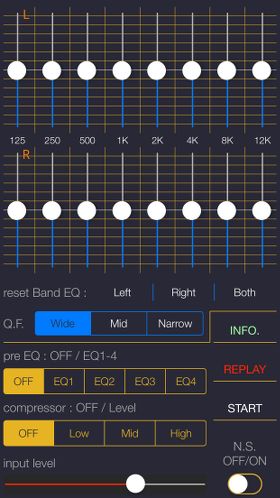 Graphic Equalizer (GEQ)

For the microphone input sound, you can control the frequency characteristics in real time for each eight frequency bands. Moreover, the crossover condition of each frequency band can be finely adjusted by Quality control function (Quality factor).

Preset Equalizer (preEQ)

Based on typical auditory loss model, it has been set in advance four equalizer. By comparing each preset type, you may be able to find a correction model to fit you. It can be adjusted even further in GEQ.

EQ1-Voice zoom, EQ2-Vocal focus, EQ3-Higher Frequency hearing loss supports, EQ4-Lower Frequency hearing loss supports

Noise Suppressor (NS)

This function reduces the annoying noise in the microphone sound. You can adjust the noise reduction level in accordance with the ambient noise situation.

Compressor

This function is to compress the dynamic range of the microphone input volume. It can be greater than the relatively small sound.

Input level

This function is to compress the dynamic range of the microphone input volume. It can be greater than the relatively small sound.

Replay - Playback of the listening missed sound.

During the voice output operation, it is always recording a short time sound just before. When you tap "Replay" button, you can play the sound of the previous 15 seconds. If you missed to hear the past sound, you can listen again by listening compensation function.

Sound level meter

Microphone input level will be displayed graphically in the volume slider part.

Usages

Procedure of operation on this app is as follows. Please use it adherence to notes.

[Preparation before use]

Step-1. Connect your headphones. Boot the app, the info of usages is displayed. In the first boot, you will be asked permission to access the microphone, so please enable it. If you are not connected to the headphones, a warning is displayed. In that case, please connect the headphones, and tap "OK".

Step-2. Set Hardware volume to 50% level.

Step-3. Tap "Close", the top view is displayed.




[Operation procedure]

Step-1. Set Input level volume up to 25% level.

Step-2. Mount your headphones.

Step-3. Tap "START" button, the audio output will start. Set again Input level volume to hear better.

Step-4. Adjust Compressor level for supporting to listen a low level sound.

Step-5. Select a setting of preEQ to check your hearing type.

Step-6. Set GEQ and adjust Quality level, for fitting your hearing characteristic.

Step-7. Set to enable NS if the background noise is very high.

Step-8. Tap "STOP" button, the audio output will stop.





Graphic Equalizer (GEQ)

Graphic equalizer (GEQ) is an 8-band parametric equalizer, and full cover the audible frequency band. By the gain adjustment bar of each frequency band, it will be able to adjust the frequency characteristic graphically.

In addition, on "QF", the slope adjustment of each band allows you to control the overlapping degree of each frequency band in three stages.




Setting of "Graphic Equalizer (GEQ)"





When you tap one of the channel selection buttons (Left, Right, Both) with "reset Band EQ" settings, the gain adjustment bar of GEQ is initialized and the frequency characteristic becomes flat.




"GEQ reset - both channel"





It can also save up to two frequency band settings of graphic equalizer (GEQ).

If you tap the "INFO" button, the data save-load button "Save1/Load1, Save2/Load2" is displayed at the bottom of the product information view.

Once saved data can be restored with one touch even after changing the setting of GEQ. For example, saved data with "Save2" can be load with "Load2".




Setting of "GEQ Data Save/Load"




Preset Equalizer (preEQ)

Based on typical auditory loss model, it has been set in advance four equalizer. By comparing each preset type, you may be able to find a correction model to fit you. It operates independently, so can be adjusted even further in GEQ.




EQ1 : Voice zoom : Equalizer setting easier to hear in focus a voice.

EQ2 : Vocal focus : Equalizer settings easier to hear to extend the frequency range up to vocal.

EQ3 : Higher Frequency hearing loss support: Equalizer setting corrected for general higher frequency hearing loss model.

EQ4 : Lower Frequency hearing loss support: Equalizer setting corrected for specific lower frequency hearing loss model.




Setting of "Preset Equalizer (preEQ)"




Noise Supressor (NS)

NS function reduces the annoying noise in the microphone sound. The noise level is reduced according to the surrounding noise situation. Depending on the noise situation, it may be difficult to hear it in reverse, so please disable it in that case.




Setting of "Noise Supressor (NS)"




Compressor

Compressor function is to compress the dynamic range of the microphone input volume. It can be greater than the relatively small sound. The compression range of the dynamic range can be set from 3 stages. By the dynamic range compression of the sound, there is a case to be in an unnatural sound.




Setting of "Compressor"




Input level

You can adjust the microphone's input gain with the volume slider of "Input level". The initial boot has been set to 25%. Various settings are retained even in the background during the startup of the application. Before tap of "START" at the time of re-use, please check the level of the microphone input level and the hardware volume.




Setting of "Input level"




Replay

The function is playback of the listening missed sound. During the voice output operation, it is always recording a short time sound just before. When you tap the "Replay", you can play the sound of the previous 15 seconds. Sound you missed to hear, you can listen again by listening compensation. After the execution of "Replay", the recorded data will be erased if you tap "START".




Setting of "Replay"




Sound level meter

Microphone input level will be displayed graphically in the volume slider part.

If the meter display of microphone input level is has entered to continue the red zone, it may cause distortion in the excessive input level. Please make lower the input level.




Example view of "Sound level meter"




Info

By tapping the "INFO" info button, it is displayed the usage and the product information. When you tap the "Support/Information", Safari starts and you can see our support page. By tapping "Close" button, it returns to the top view.

Release Information

Listening Tuner version 2.1 was released on May 21, 2018 UTC.

Listening Tuner version 2.0 was released on May 9, 2018 UTC.

Listening Tuner version 1.2 was released on February 29, 2016 UTC.

Listening Tuner version 1.1 was released on September 3, 2015 UTC.

Listening Tuner version 1.0 was released on August 3, 2015 UTC.

Attention

In order for this app to work properly, you will have to connect your headphones to iPhone. The effects may vary for each individual person and each headphones. So as not to excessive volume, please adjust the input level and the hardware output volume carefully. Please avoid use of this app at high volume or in long period of time.

Wireless connection with Bluetooth equipment is not supported.

At the time of the first access to Microphone after installing the app, you will be asked authorization to access them by the iOS system. If you have not enabled this setting, the app can not access them by privacy restrictions of the iOS system. Please enable the access permission on the iOS setting, "Settings > Privacy > Microphone".

Disclaimer

This app is not intended to be used for a medical purpose. This app is not intended to diagnose, prevent, monitor, treat, alleviate or compensate a disease, an injury, a disability or a handicap. If you think you have hearing problems, please consult with your doctor, or other qualified healthcare professional before using this app. Please use this app at your own risk. TOON,LLC don't take any responsibility for direct or indirect damage that could result from its use.

Request for review

Please send a review of your comments and requests for this app. We will use your review to improve our products. Thank you for your cooperation.

Please send a review message for "Listening Tuner".

Please fill in your review by accessing from iOS device.

Contact us

Inquire about this app please from below!

Support contact : support_ap@toon-llc.com

Please contact us with the following details if you have any requests or problems.

1. Application name

2. Device model

3. iOS version

4. Country you live

5. Details about your requests or problems.

(note: Please enter the at sign of the mail address in lowercase letters.)

Return to Top