Description - iOS app / SLA Lite
Sound Level Analyzer Lite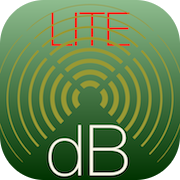 "Sound Level Analyzer Lite" is a sound level meter app for the iPhone.
It can be displayed the sound level measurement in realtime, and is available in a variety of applications such as the neighboring environmental noise measurement and sound check of Live events.
The WHO has proven direct links between noise and health risks; tinnitus, sleep disturbance, stress, cognitive impairment, heart diseases and annoyance in general. Please check your environmental noise for your wellness.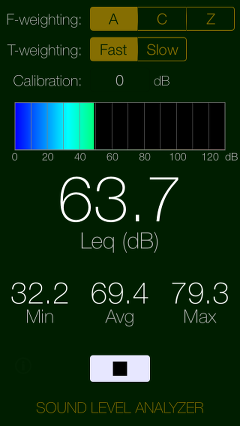 This app has our advanced digital signal processing algorithms to process acoustic frequency weighting filter and to measure real-time sound levels. The ANSI acoustic filters are A- and C-weighting. A-weighting is provided a roll off of low frequencies and high frequencies fairly steeply for human ears. C-weighting is provided a roll off of low and high frequencies slightly for music. The response time of all measurements can be also selected from ANSI Fast or Slow parameter.
"Sound Level Analyzer Lite" comes pre-calibrated for the typical iPhone built-in mic, but you can adjust the calibration if you have a calibrated standard sound level meter.
"Sound Level Analyzer Lite" has received the highest rating as a sound level meter app in the research paper of acoustic academic journal "Applied Acoustics". (Paper: "Testing the accuracy of smartphones and sound level meter applications for measuring environmental noise", Enda Murphy, Eoin A. King ; Applied Acoustics 106(2016)16-22.)
In addition, the high-end app "Sound Level Analyzer PRO" has a powerful sound / noise analysis function in addition to the sound level measurement function, so please consider using this app for your advanced requirements.
Please to click the following link to Free download "Sound Level Analyzer Lite" from App StoreTM. It will be open the download page on App StoreTM.

Installation of iTunes is required.

Communications charges when connecting to the App Store will be borne by the customer.

*

iPhone is a trademark of Apple Inc., registered in the U.S. and other countries.

*

App Store is a service mark of Apple Inc.
Products Information
Version : 2.4
Release date : January 23, 2018. UTC
Size : 2.8 MB
Recommendation : Requires iOS 11.2 or later.
Category : Utilities, Life style
Features
Sound Level measurement :

- Leq :equivalent continuous sound level (Leq)

- Leq avg : Long-term average equivalent sound level (Avg)

- Lmin : Minimum sound level of Leq (Min)

- Lmax : Maximum sound level of Leq (Max)

Display level dynamic range : 0 - 130dB

Supports frequency weighting filter : A, C, and Z (non-filter).

Supports Time weighting : 125ms (Fast), 1.0sec (Slow)

Frequency range: 20Hz - 20kHz

Calibration function : offset value from -20dB to 20dB (1dB-unit)

Display resolution : 0.1dB

Peak measuremet range : around 110dB (by built-in mic perfomance)

Pause the screen during Measurement

Measurement duration : 20sec
Applications
"Sound Level Analyzer" can be used in applications such as the following:
Live Sound

Environmental noise measurement

Setting and Tuning of Audio system

Installation of Audio equipments

Installation of Car audio equipments

Architectural acoustics

Device management
In addition, the followings are examples of the magnitude of the sound level in the measurement of environmental noise.
130dB : Engine sound of Airplane

110dB : Horn of Car

100dB : Noise of passing train

90dB : In loud factory

80dB : In the train, Vacuum cleaner

70dB : Noisy office, Noisy street

60dB : Quiet Car, Normal conversation

50dB : Quiet office

40dB : In the library, Quiet residential area

30dB : Outskirts of midnight, Whisper

20dB : Sounds of rubbing leaves
Sound Level Measurement
It makes the sound level measurement in general. In this case, by applying the appropriate Frequency Correction, Time Correction, and Level Correction, you can be the best sound level measurement.
By tapping the play button to start the sound level measurement, and it then pause by tapping it again.
The access permission to the microphone will be confirmed from the iOS system at the first start-up. Please enable access to the microphone.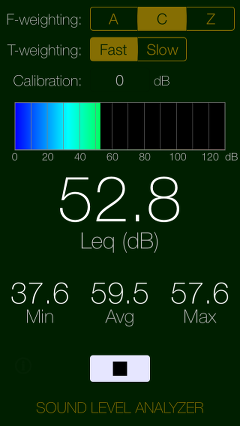 Sound level measurements are displayed measured values of Equivalent continuous sound level value (Leq), minimum value (Min), average value (Avg), maximum value (Max) in dB units. The Leq is also displayed as a bar graph.
Generally, when using as a noise level meter, please set parameters for A correction and FAST.
It can be measured as parameters, Frequency weighting correction (F-Weighting), Time weighting correction (T-Weighting) and Level correction (Calibration), to set as follows:
[Frequency weighting correction : F-Weighting]

It is a weighting filter that limits the frequency band of the input signal. Please set according to the measurement applications.

A : A correction - The noise measurement by general audibility correction (Default)

C : C correction - Sound pressure level measurement for wideband sounds and music

Z : Non correction
[Time weighting correction : T-Weighting]

It specifies the time constant of calculating the sound level. Please set in accordance with the occurrence tendency and type of sound source.

FAST : 125ms (Default)

SLOW : 1.0sec
[Level correction : Calibration]

You can specify the reference level in the offset range. If you have a standard sound level meter, please use it to adjust the reference level.

Offset ranges : -20dB to +20dB in 1dB unit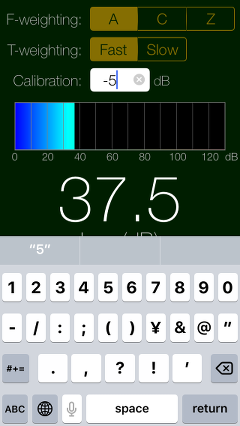 Product Information
By tapping "i" button in Measuring Operation area, it is displayed the product information link. If you tap the "Support Site", Safari starts and you can see our support page. If you tap the "toon,llc Apps Information", you will see our App's information on the "App Store". (Currently due to changes in Apple's terms, this web access is no longer available.)
By tapping "i" button again, it will return to the previous measurement view.
Release Information
Version 2.4 was released on January 23, 2018. UTC

Version 2.3 was released on May 17, 2017. UTC

Version 2.2 was released on June 2, 2016. UTC

Version 2.1 was released on March 4, 2016. UTC

Version 2.0 was released on December 21, 2015. UTC

Version 1.4 was released on December 4, 2015. UTC

Version 1.3 was released on March 24, 2015. UTC

Version 1.2 was released on September 3, 2014. UTC

Version 1.1.1 was released on July 13, 2014. UTC

Version 1.1 was released on June 23, 2014. UTC

Version 1.0 was released on June 10, 2014. UTC
Attention
At the time of the first access to Microphone after installing the app, you will be asked authorization to access them by the iOS system. If you have not enabled this setting, the app can not access them by privacy restrictions of the iOS system. Please enable the access permission on the iOS setting, "Settings > Privacy > Microphone".
This app is adjusted the reference value for iPhone. However, the built-in microphone of your iPhone is likely to have a non-uniform gain. The more exact measurement should be calibrated using the absolute level calibration devices.
Request for review
Please send a review of your comments and requests for this app. We will use your review to improve our products. Thank you for your cooperation.

Please send a review message for "Sound Level Analyzer Lite".
Please fill in your review by accessing from iOS device.
Contact us
Inquire about this app please from below! Please contact us with the following details if you have any requests or problems.
1. Application name

2. Device model

3. iOS version

4. Country you live

5. Details about your requests or problems.

Return to Top